First stop for today is to the Foreign Service Institute where Ambassador Bhaswati Mukherjee delivered a lecture for us about India's foreign policy.
In this short lecture, Ambassador touched on topics like:
Engagement with Africa
Look East policy
Sustainable development
"Nuclear no 1st use policy"
Partnership with European Union
India is the world's 3rd largest economy at 3 trillion dollar in 2014. She emphasized that her country is the World's largest democracy and defines their own set of policies and not just basing off the East and West.
The important message told to us is that India maintains a strong stance with regards to nuclear affairs, relating to the fields of proliferation and weapon use policy. As a non-signatory to the nuclear non-proliferation treaty, india stands at a unique position with their no 1st use policy.
As part of their commitment to their belief and stance, India's nuclear activities are managed by a civilian committee chaired by their Prime Minister. This is a signicant move as a country surrounded by nuclear-armed nations. It was also made known to us that just 3 weeks ago, Pakistan made known that they will make use of nuclear-arms even in an event of a conventional warfare.
It is clear that Sustainable is a word so close to their hearts that in every corner of India, you can see traces of their work where Sustainability efforts are made.
---
Another interesting insight about their Foreign policy work is the engagement with South-Africa. They hosted the largest number of head-of-states, the largest gathering outside South-Africa ever. One project shared with us is the training of illiterate barefoot Grandmaa in areas like Solar panel and engineering related areas.
There's 2 things that we can learn from this about India:
They have no agenda when such projects are introduced. The driving force is to help South-Africa by sharing their experience and expertise gained from their own history.

India has the ability to organize information that are very technical into something understandable and learnable for illiterates. This is an important skill that as an enginner or everyone in general to be able to present something foreign to people in a way that can be understood.
During the Q&A with the Ambassador, here are some interesting points that i gathered from her sharing:
soft power is the next big thing moving ahead. There is a power shift to the East and we do not need an external party to tell us what to do.
We Asians understand hospitality. Just look at our hotels and food provided in our countries and compare it with the West.
Sometimes, World heritage status for a place of interest can lead to the site becoming destroyed. India does not regard every site conferred the title and simply open it up for tourist but instead inform the committee about sites that they deem suitable and where sustainable tourism is feasible.
Indians are sensitive towards the other races as a multi-racial social where pork and beef are usually not served on the table when you visit a friend's house. It's just a mutual understanding and sensitivity ingrained in their people.
---
One touchy issue that I thought would be interesting to share is the issue on rape and violence on women.
I am impressed by India's ability to identify the root cause of the problem and the key solution to resolve it.
The answer is: E D U C A T I O N
Here's what the Ambassador shared with us:
people are moving from the rural area to the city for jobs
Women in the city are dressed very differently from women back home and education level is different as well.
The guys from the rural area are told off when they look at the women in the city and felt insulted being told off for staring at the ladies
Although the death penalty is reintroduced for rape, they have not seen a reduction in the number of rape cases.
Another great point that the Ambassador made about rape is that, Indian men are just like men all over the world.
There's nothing wrong with men in India so if this is a problem India, it's a problem any where else too.
It's sad that the media sensationalised the news that gives us a bad impression about India but of course, we cannot deny that the incident happened.
Here's a combined group photo with the entire contingent!
--
Our next stop is at Sri Auroindo Ashram, a place where people go to practice yoga. It's a serene place but sadly located somewhere traffic is busy and honking that disrupts the tranquility.

![yoga-photo]
A yoga introduction session was conducted for us and I must that it's probably time for me to sign up for classes back in Singapore!
The key for yoga is breathing and yoga is a tool to help with meditation. It makes your body strong and healthy to perform work throughout the day.

Lunch was served and I personally find it delicious though feelings are mixed amongst the delegates.

Our host, Shruti thought that it is very cute watching us wash our dishes!
---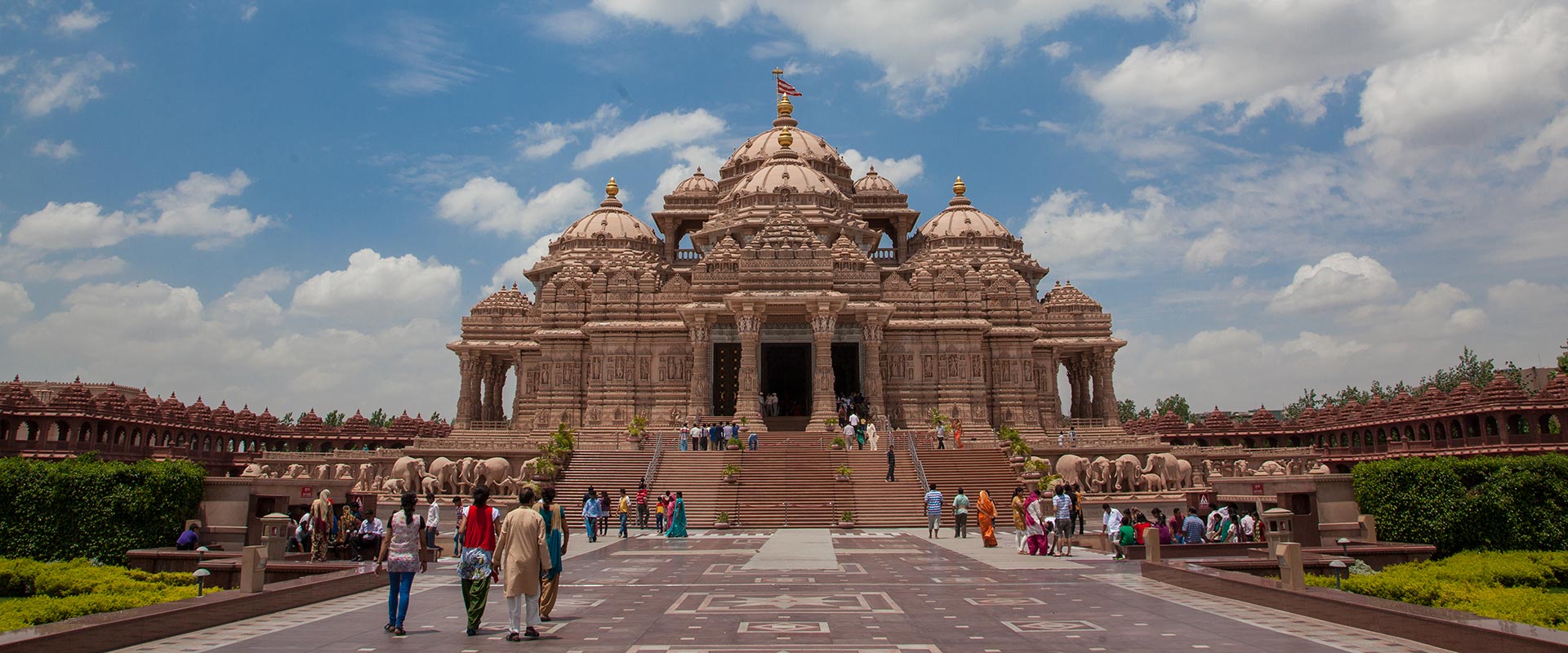 The last and most memorable place is the Akshardham Temple.
We were not allowed to bring bags and any electronics devices for the security reasons. I kinda like that idea for a tourist attract as it detaches us from our fancy gadgets and indulge in the attractions with all our five senses.
It is yet another "regret moment" for me as what you see inside the temple is simply...beyond what I can describe in words. You MUST really visit this place or you will be missing a lot that the world, or India in particular has to offer.
Imax theatre is totally overrated. Their experience gallery is way cooler and in a league of its own
The temple is built in only 5 years by 7000 craftsmen and 400 volunteers. Looking at one segment alone, you will not believe that all it took was 5 years for the completion.
Their light show is of an entire new level with creative use of laser, water, fire, light, projection and sound.
---
Here are some interesting things that we saw during our journey today.

Practice practice and more practice

This car is said to be towed away for packing at the no-parking area and the owner has to take the risk and call the police and find out if his car was removed for that reason or it has been stolen. How interesting!

Not sure if this is a slum/poor living condition housing but we saw this on our way to the temple.

You might be thinking: "why in the world would people use newspaper as packaging?" The reason is behind sustainability (yes this word again) and this is an effort to reduce the use of plastic bags.
As our hotel is at the border of New Delhi, our bus needs to enter the other state and that requires the driver to pay a tax. It's super crazy as we are on the other side of the road separated by a divider and they have to run across the road and pay the tax.
We also hear from Shruti that she used to work in the US for 5 years as a software consultant for SAP but decided that hey, I had enough talking to machines so it's time for a change.
Confederation of Indian Industry helps businesses to enter India and at the same time assist Indian companies to have a presence overseas. They role is to reduce the barrier required to setup a business for inbound and outbound related matters. Her job is focused on all the logistical arrangements for executives to visit companies of interest.
Shruti also shared that her father used to serve the Indian Army and was deployed to Siachen Glacier with a battalion living under harsh conditions. You have to be constantly suited up in winter attire as fire was not available and your entire skin could be easily peeled off in such brutal environment. Siachen Glacier is a disputed between India and Pakistan so having a army presence there is critical.
We also found out the importance of internet as the plan is to have it available in all corners of India so that people can make use of it to become more educated. This is tied to the key solution that tackles various issues such as poverty and rape.
It is also a festival in India today where women will fast and break fast after seeing the moon. They will be dressed up in red and partying for long-life of their husband.
Mr. Gupta shared with us about the Government's plan to join up all the river and clean them up as an effort to resolve drought and flooding issues. This also improves the health of the people in general as the river is flowing through the cities.
However, the movement is taking a long time to be approved as it has to be presented and the opposition would oppose just to oppose and nothing gets done.
Shruti also recommended visiting Jaipur and check out the marvellous architectural buildings there when we are back in India as a tourist next time!
---
How to make nice tea (Indian style)
boil water
throw in the tea leaves,sugar and ginger or Cardamom
allow it to boil for 2 minutes
and simmer
add in milk and boil it but watch closely as it will bubble furiously
simmer for 2 minutes and you are ready to drink!